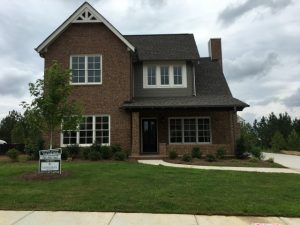 When searching roof repair Hoover AL,  you will want to make sure you choose a roofing company you can trust. Terry Flanagan has been a certified roofing contractor for over 30 years and has a great team of high-quality experienced roofing professionals.
Roof Repair Hoover AL
Make sure to look for some basic qualifications that any reputable roofing company should present before working on your home. These would include a Business License, Roofing Credentials, Workers Compensation Insurance, General Liability Insurance, Written Manufacturer Warranties, and Written Labor Warranties.  TKF Roofing Hoover, AL is proud to be a recognized CertainTeed Master Elite – Quality Master – Master Shingle Applicator and a Certified Roofing Contractor in Hoover, AL. This ensures you will receive the highest quality craftsmanship and allows us to offer a residential roofing warranty of 5 years for a full roof replacement.
We provide an expert roof repair at an affordable price to all our customers in and around the Hoover, AL area. You will always receive a free up-front estimate before any job is started. We take pride in our work using only the highest quality roofing materials and have a wide selection of well name trusted roofing vendors.
We also know that any roof repair is a big investment and price is often the biggest factor in your decision. That is why we will credit any extra materials left over back you as a discount off your final invoice. Terry Flanagan has offered this discount to all customer's since the business started 30 years ago and he doesn't intend to stop anytime soon. Let our family repair your roof today.
Call or fill out our estimate form to get a free estimate today! We specialize in shingle roofs, metal roofs, flat roof, commercial roofs, and also can help with windows, siding, decks, porches, and gutters.  Call or click here to get started today!