Roof Repair in Birmingham AL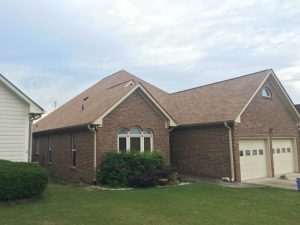 If you need roof repair in the Birmingham area, look no further than Flanagan Construction Inc. / TKF Roofing. With 30 years of experience, we're your local source for dependable roofing repairs. From leak detection to simple patching, we do it all. Give us a call today or fill out our FREE estimate form to get an upfront price on the services you need.
Our Roof Repair Services Include:
Chimney caps and pans
Clean-up Missing shingle replacement
Mold remediation services 
New construction
Roof installation
Roof maintenance
Skylights
Storm damage repair
Tear-offs
Valleys and ridge vents
Wall and chimney flashing
Get Started on A Free Estimate!
TKF Roof Repair is proud to be a recognized CertainTeed Master Elite - Quality Master - Master Shingle Applicator and a Certified Roofing Contractor in Birmingham, AL. This ensures you will receive the highest quality craftsmanship and allows us to offer a residential roofing warranty of 5 years for a full roof replacement.
We provide expert roof repair at an affordable price to all our customers in and around the Birmingham area. You will always receive a free up-front estimate before any job is started. We take pride in our work using only the highest quality roofing materials and have a wide selection of well name trusted roofing vendors.
We also know that roof repair is a big investment and price is often the biggest factor in your decision. That is why we will credit any extra materials left over back you as a discount off your final invoice. Terry Flanagan has offered this discount to all customer's since the business started 30 years ago and he doesn't intend to stop anytime soon. Let our family repair your roof today so you can stay dry and comfortable.
Call or fill out our estimate form to get a free estimate today! We specialize in shingle roofs, metal roofs, flat roof, commercial roofs, and also can help with windows, siding, decks, porches, and gutters. Call or click here to get started today!
Flanagan Construction / TKF Roofing
1036 A Commerce Blvd. Pelham, AL 35124
Telephone: (205) 982-5100
FAX: (205) 982.5101
E-mail: [email protected]

Business Hours:
Monday – Friday: 7:00 AM to 5:00 PM